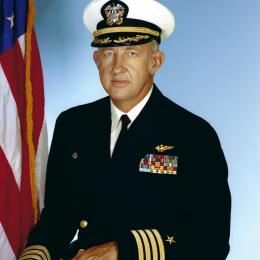 ABOUT
Name
Marland W Townsend
Date of Birth
November 11, 1927
Date of Death
July 28, 2020
Home Town
Foster City
Place of Passing
Peacefully At Home
Branch of Service
Navy
Rank
Captain
Years of service
24
OBITUARY
Marland W Townsend
Navy
November 11, 1927
-
July 28, 2020
Capt. Marland W. "Doc" Townsend entered the U.S. Navy flight training program in June 1945 and was designated a naval aviator in September 1948. His first operation experience was gained as an aviation midshipman fighter pilot flying F8F Bearcats in Fighter Squadron 91. He was commissioned an Ensign in 1949 and served in Fighter Squadron 53 flying F9F Panthers during the Korean War on board the USS VALLEY FORGE. Subsequent assignments included the Naval Post Graduate School, duty as an instructor in the initial F8U Crusader RAG squadrons, duty as an aeronautical engineer on Commander Fleet Air Japan Staff and duty as a test pilot at the Naval Air Test Center. In July 1966 Capt. Townsend assumed command of Fighter Squadron 143 an F4B Phantom squadron. Then in June 1967 he assumed command of Fighter Squadron 121, the F4 readiness training squadron in Miramar, Ca. later known as "TOP GUN". The following year he reported aboard the USS CONSTELLATION (CVA-64) as Operations and Executive Officer. He also commanded the USS SEATTLE (AOE-3) and in 1972 the USS KITTYHAWK (CVA-63). Capt. Townsend has a Bachelor of Aeronautical Engineering Degree from Georgia Tech and a Master of Science in Aeronautical Engineering from Princeton University. He has been awarded, among others, the Distinguished Flying Cross, the Bronze Star, the Air Medal, the Navy Commendation and Navy Unit Commendation Medals.
After leaving the Navy he made a career with ARAMCO in both Saudi Arabia and the United States. He also found the time to be the Mayor of Foster City, Ca. One of his favorite quotes was "Our job is to do the assigned task and do it well". Whether it was overseeing air operations for the US Navy, commanding an Navy Aircraft Carrier, raising a family or guiding a small California town, he did his job well. He was a good listener, an incredible mentor and had a great sense of humor.
Fair Winds and Following Seas, my friend…You will be missed.
SERVICES
Burial
Private
---
Visitation
No Information
---
Service
Arlington National Cemetery

No Information