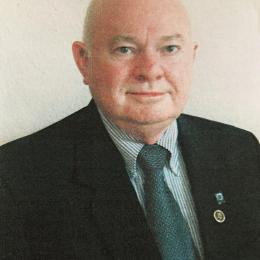 ABOUT
Name
Thomas Arlin Polsley
Date of Birth
May 22, 1933
Date of Death
July 18, 2021
Home Town
Eureka, California
Place of Passing
Rottendorf, Germany
Branch of Service
Army
Rank
Lt. Colonel
Years of service
20
OBITUARY
Thomas Arlin Polsley
Army
May 22, 1933
-
July 18, 2021
Thomas Arlin Polsley, 88, of Rottendorf, Germany, passed away on July 18 at his home surrounded by family and friends.
Mr. Polsley was born in Eureka, California in 1933 to Robert and Elaine (Hynding) Polsley. When he was 14, he met Leila Potter at a birthday party. They married in 1953, and soon after he was drafted into the Army. They had four children together; Joan, Terry, Thomas and Robert. Leila preceded him in death in 2003.
Mr. Polsley served in the Military for over 20 years, with several overseas tours including Korea, Germany, Italy, and Vietnam as a Field Artillery Officer. He received many awards and citations, including the Bronze Star and the Air Medal for Valor. He retired as a Lieutenant Colonel in 1973.
Upon retiring from the Army, Mr. Polsley worked for the DoD as a Civil Servant. His final duty station was in Germany, and he opted to remain there after retiring at age 76 after 35 years.
Mr. Polsley met Belinda Espiritu in Heidelberg, and they married in 2006. He gained three stepdaughters, April Anne, Marie, and Nicole. After his retirement, he and Belinda organized a Ministry in the Philippines. They established a dozen churches, helping hundreds of people with medical expenses, tuition, and encouragement. He believed that if you can help someone, you should help them, and that everyone has the potential to be great if given an opportunity.
Mr. Polsley is survived by his wife Belinda, his daughters Joan Cooke (Gary), Terry Walls (Chuck), sons Thomas Polsley (Robin), Robert Polsley, and stepdaughters April Anne Eslabon (Rowland) Marie Koedel (Thomas) and Nicole Rachor (Johannes). He also is survived by nine grandchildren, two great grandchildren, and two great-great grandchildren. He is preceded in death by his beloved sister Pat Mesloh, and grandson Gleason Poolaw Grover.
In lieu of flowers or monetary gifts, Mr. Polsley encourages people to do or say something that would lift up others. "For to me, to live is Christ, and to die is gain" - Phil 1:21
SERVICES
Burial
Private
---
Visitation
No Information
---
Service
Rottendorf

Friday, July 23, 2021 - 13:00