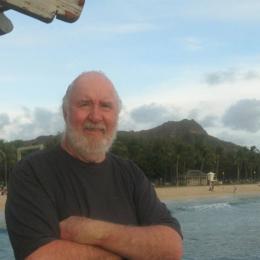 ABOUT
Name
Bernie Laurence O'Neill
Date of Birth
September 5, 1938
Date of Death
August 7, 2021
Home Town
Austin, Texas
Place of Passing
Austin, Texas
Branch of Service
DOD Civilian
Years of service
33
OBITUARY
Bernie Laurence O'Neill
DOD Civilian
September 5, 1938
-
August 7, 2021
Bernard (Bernie) Laurence O'Neill, of Austin, TX passed away from complications due to a stroke, on August 7, 2021 at the age of 82. He was born on September 5, 1938 in Denver, CO to James F. O'Neill and Harriett Pratt. He was the youngest child and had three older siblings, John Patrick, Leo Joseph and Mary Jo. His family was very poor and they lived a simple life in a small house in downtown Denver that is now a vacant parking lot. His father was a postal worker and a miner who worked in Central City, CO, and his mother was a homemaker. He learned the value of work at a young age by having a newspaper route to help the family. He also worked at the Historic Elitch Theatre in Denver. He painted props and scene backgrounds, and talked about having to check and change the lights of the theatre marquee which had thousands of lightbulbs.
Bernie attended the Cathedral of the Immaculate Conception High School and graduated in 1956. He was very active in student council and was a star on the school's basketball team.  After high school he attended Regis College and Colorado State College (now known as University of Northern Colorado) in Greeley, CO. He received his Master's in Education and went on to teach for the Department of Defense Dependents Schools (DoDDS) schools in Barcelona, Spain; Woodbridge, England; Stuttgart, and Heidelberg, Germany. He loved teaching and he also coached the girl's basketball team and for a short time he was an Assistant Principal. He eventually missed being in the classroom and returned to teaching Government and History. He taught for 33 years and retired to Austin, TX in 1999. From that day forward he remained engaged with his former students, communicating with them through letter writing to social media. Those students say that he kept them engaged with politics, current events, and history, even if they had different views, but most importantly stayed in their lives. He regularly sent notes to students about their lives and always had a kind word of encouragement or praise. Bernie and Trudy often made time on their many trips for a day with former students at a local bar or restaurant. Pictures flooded the internet of photos and stories of Bernie with former students in places around the world upon the news of his death.
On his birthday in 1966 in Würzburg, Germany he met Trudy A. O'Neill and they fell in love and were engaged three months later. They were married on August 19, 1967 at St. Augustine Church in Austin, MN. They were married for 53 years and had many adventures together, as they both loved to travel, enjoyed a good cocktail, and meeting people wherever they went. They had three children, Katie M. Reeves (husband Michael), James S. O'Neill and Sean C. O'Neill all of Austin, TX. Bernie was lucky to have two grandchildren who always put a smile on his face when he saw them, Flannery T. Reeves and Leo O'Neill Williams.
He is survived by his cousins, Roy and Elaine Daugherty, Denver, CO, Rita Guzman, San Diego, CA, and Madonna O'Neil, Sacramento, CA. He also has loving cousins in Virginia, North Carolina, Minnesota, Wisconsin, and Colorado. Family was very important to Bernie and he made great efforts to keep everyone connected through phone calls and letters. He planned family reunions and was considered the patriarch of his family. He thought it was important to include every family member into the fold and he brought long lost cousins together where they forged lifetime relationships with each other.
Bernie loved to read and spend time with his family in Austin. They traveled the world, and have many memories of all the amazing places they visited together and with others. He loved the arts and music, and enjoyed attending the ballet, opera, art exhibits and concerts with Trudy. He was a man of God and faithfully attended and supported the Catholic Church, and assisted local charities. He volunteered in his community through various local non-profits. He enjoyed socializing and getting to know people and he wasn't an easy man to forget being 6'4, with his long white ponytail, booming voice, and warm smile. People recognized and remembered him everywhere he went. His family joked about him being recognized in the airports, random cities all over the world, grocery stores, bars, church or anywhere there were people. Someone would always recognize Bernie O'Neill and stop for a chat. He will be greatly missed by his family, friends, students, faculty, neighbors, and anyone who was lucky to know him.
Services for Bernie will be held at a later date and the family requests that in lieu of flowers or gifts, please make a donation to your favorite charity in his honor.
SERVICES
Burial
No Information
---
Visitation
No Information
---
Service

No Information
No Information