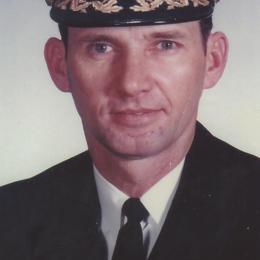 ABOUT
Name
James Joseph Monaghan
Date of Birth
March 27, 1931
Date of Death
December 30, 2021
Home Town
Chula Vista
Place of Passing
At home
Branch of Service
Navy
Rank
Commander
Years of service
27
OBITUARY
James Joseph Monaghan
Navy
March 27, 1931
-
December 30, 2021
James Joseph Monaghan passed away peacefully at home on December 30, 2021, with family members by his side.  During his 90 years, he was a faithful servant to the Lord, a loving husband to Gail for 64 years, a caring and encouraging father to his children, grandchildren, and great grandchildren.  He was also a supportive member in his many public service communities to which he dedicated himself to throughout life.
Jim, "Big Jim" to some, was born March 27, 1931, to James Patrick Monaghan and Mary "Marion" Josephine (McCluskey) Monaghan in Lakewood, Pennsylvania.  Jim, along with his sister Mary, spent their early years helping their parents on the farm.  After graduating from Sussex High School in 1948, he attended Seton Hall University in New Jersey, and graduated from Oswego State University of New York in 1953 with a Bachelor of Science degree in Industrial Arts.
On November 1, 1953, Jim was inducted into the military life at Naval Air Station (NAS) Niagara Falls as an Ensign.  His first duty station was going to flight school at NAS Pensacola where he became an aviator.  After flight training, Jim was stationed at NAS Quonset Point, Rhode Island.  Where he met Gail Hope Greenhalgh on a blind date that never ended.  On December 14, 1957, Jim and Gail were married. 
Jim was loyal to his commitments and dedications to his faith, his family, and his country.  While Jim and his family were on the East Coast, he worked on many different projects.  He was an NROTC teacher at Brown University, a flight trainer for Squadron Traron 3 in Milton, FL, a member of the CINATRA staff in Pensacola, FL as well as being involved with the Navy's precision flight team, aka the Blue Angels, before moving to the West Coast.
In 1972, while stationed at NAS North Island, Jim and Gail settled and made a home in Chula Vista, CA, in which they never left.  By this point of his military career, Jim had achieved the rank of Commander and was a Combat Information Center (CIC) officer aboard the aircraft carrier, USS Kitty Hawk CVN-63.  Jim's cruises took him to the far east for nine months at a time. He wrote letters to Gail and his children to keep in touch.  Jim's last duty station was the U.S. Navy Tactical Interoperability Support Activity group in Point Loma, CA when he retired in 1980.
After 27 years of serving his country, Jim joined the civilian workforce at the local Handyman, a home improvement store chain.  He enjoyed sharing with people his home remodeling skills by day, while by night he attended classes to become a Certified Building Inspector.  Jim was hired as a home building inspector for both El Cajon and Chula Vista where he achieved the status of "Senior Building Inspector".
Being an active participant in local service organizations was an important aspect of Jim's retirement.  As a member of St. Rose of Lima Catholic Church, Jim spent years as the treasurer and Grand Knight of the Knights of Columbus, Chapter 3368.  Jim was also a member of the local MOAA, (Military Officers Association of America, Sweetwater Chapter) serving as President and faithfully attended the meetings.  He was also a member of the Benevolent and Protected Order of Elks, Lodge 2011.  He and Gail also delivered food to the homebound through the Meals on Wheels program where they were recognized with the 2009 George A. Scott Award.
SERVICES
Burial
Public
---
Visitation
Funeraria del Angel Chula Vista, 753 Broadway Ave, Chula Vista, CA 91910

Wednesday, January 26, 2022 - 13:00
---
Service
Miramar National Cemetery 5795 Nobel Drive San Diego, CA 92122

Thursday, January 27, 2022 - 10:30