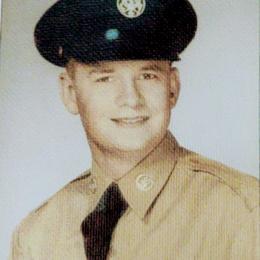 ABOUT
Name
Gary C Parsons
Date of Birth
April 20, 1935
Date of Death
August 18, 2020
Home Town
Crescent City CA
Place of Passing
Eureka KS
Branch of Service
Air Force
Rank
Staff Sergeant
Years of service
12
OBITUARY
Gary C Parsons
Air Force
April 20, 1935
-
August 18, 2020
Pastor Gary C. Parsons passed away on August 18, 2020 in Greenwood County Hospital, Eureka Ks, after a long illness at the age of 85.
Gary was born on April 20th , 1935 at Seaside Hospital in Crescent City, California to his parents Henry and Marian Parsons.  He was the 4th and youngest of his 2 brothers Wayne and Dale and his sister Shirley. He and his siblings were all parented and were raised in Crescent City by kind, loving and nurturing Christian parents with a deep faith in God who upheld strong Christian values.
Gary graduated from Del Norte High School in 1954.  While in high school Gary learned how to fly from an instructor at the Crescent City Airport by the name of Don Clausen who later became a United States congressman for the region.  Gary and Don became life-long friends.  Flying, and aircraft mechanics became a keen interest of Gary's.  After graduation, Gary worked for his Dad in the family trucking business. He also married and enlisted in the Air Force in 1955.  Gary was trained as a highly skilled aircraft mechanic and he maintained nearly a dozen diverse aircraft models including the C124, F86, B25, B66, B52, C47, KC135, F4, and F106 during his service duty.  While in the service he and his previous wife Wanda had 2 sons, Gary and Hank.
During his service tenure Gary was assigned to air bases in Texas, Illinois and Michigan.  He was later stationed overseas in England as a senior aircraft and fuel system mechanic.  His expertise in aircraft maintenance and performance earned him many honors and recognitions, and his military service career was exceptional.  He received the Air Force Commendation Medal, the National Defense Medal, the Outstanding Service Award from the 8th Air Force, 2 Longevity Service Medals, and several outstanding achievement medals.  He was honorably discharged as a Staff Sergeant in 1968.  
When Gary was sent to England by the Air Force, he met a beautiful young English woman named Jean.  They fell in love and were married in 1964.  Following his military service Gary worked on Hovercraft amphibious vehicles in England, and for several civilian defense contractors in Japan, Vietnam, Iceland, Germany, England and the Philippines.  While in the Philippines Gary and Jean adopted 2 young children, Joseph and Susan.  Upon returning to the United States he and Jean moved back to Crescent City and Gary pursued a small business opportunity as a mechanic to repair logging trucks and other vehicles and opened a gas fueling service business.
While Gary was successful in his new business, he had a deeper interest and calling growing within his heart to follow his dream and passion to pursue a life in the ministry in the service of his Lord and Savior Jesus Christ.  With encouragement from his wife Jean, Gary began his studies in ministry in the United Methodist Church in 1982.  Jean believed that Gary's commitment to faith was the work of the Holy Spirit in both of their lives and she supported him as an equal partner in ministry.  
Gary assumed his first ministry as a  Pastor at the United Methodist Church in Gridley California.  Over the years Gary was called to serve churches in White City and Wilsey Kansas, and Howard and Severy Kansas.  He then served 10 star covenant churches in Kansas including Columbus, Bethlehem, Neutral, Chetopa, St. Paul, Mason Chapel, Oswego, and Spring Valley.  He retired from his full-time pastoral duties in 1999, but then served as part-time pastor at Moline United Methodist Church for 7 more years.  The power and grace of Pastor Gary's sermons and blessings of hope, faith, and redemption in following Christ's teachings positively impacted the lives of thousands of his parishioners.  Gary genuinely believed and preached that the promise of the love of the Lord and life everlasting to those all who followed him in faith was their salvation.
Gary also found time in his life to give back to the community as a public safety leader.  His past military experience led him to volunteer as the Emergency Preparedness Director for Elk County Kansas.  As Director he led and coordinated emergency first responders to all kinds of emergency events in the county including traffic accidents, floods, hurricanes, tornados, winter storms, and earthquakes.  He wanted to make the community safer and help anyone who suffered losses from such damage.  His leadership in emergency response and preparedness over the years helped to save many lives and secure property from damage.
Gary's priorities in life were to his God, to Jean, his children and family, and his friends.  He felt truly humbled by the many blessings he enjoyed in his life and faithfulness to Christ.  He deeply loved his children and was immensely proud of their achievements in life.  His marriage to Jean was a love story bound together as missionaries for Christ.  His reverent spirit, faith in God, and Jean's boundless faith, tireless devotion, love and caring for Gary gave him hope, comfort and strength as he faced his many health challenges the past several years and as he prepared for his ascension into Heaven.  
Gary was preceded in death by his parents, Henry and Marian Parsons, his sister Shirley Zais, and his brother and sister in law Dale and Eleanor Parsons.  He is survived by his brother Wayne Parsons, his beloved wife Jean Parsons, daughter Susan Parsons Klein and granddaughters, Ashley and Nikki Roediger. Sons Joseph Parsons and grandson Zachary, Gary Halverson and his wife Susan and Grandsons Kevin and Michael, and  Hank Halverson and his wife Gena and grandson Matthew; nephew Richard Zais and his wife Tammy, nieces Kathleen West, Marilyn Brandler and her husband Bruce, cousin Sharon Van Bebber, many great-nieces, nephews, cousins, and countless close friends throughout Kansas and California, and all of Jean's family in England.
Any memorial donations may be made to:
Countryside Funeral Home
c/o Gary C Parsons
206 E Washington St
Howard KS, 67349
SERVICES
Burial
Public
---
Visitation
Countryside Funeral Home, 206 E Washington St, Howard KS, 67349 USA

Tuesday, August 25, 2020 - 17:00
---
Service
Winfield Veterans Cemetery, 1208 N College St, Winfield, KS 67156 USA

Wednesday, August 26, 2020 - 14:00
CHARITIES
N/A
Countryside Funeral Home, 206 E Washington St, Howard KS, 67349 USA