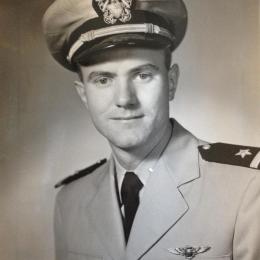 ABOUT
Name
Hugh Cameron Black
Date of Birth
September 19, 1932
Date of Death
January 1, 2021
Home Town
Mundelein, IL
Place of Passing
Libertyville, IL
Branch of Service
Navy
Rank
Commander
Years of service
38
OBITUARY
Hugh Cameron Black
Navy
September 19, 1932
-
January 1, 2021
Hugh Cameron Black of Mundelein, Illinois passed away last year on January 1st, 2021 after a brief illness. He was 88 years old.
Hugh was born on September 19th, 1932 in Detroit, Michigan. He led an extremely active life which included many activities he loved to do with his family. He loved aviation, was an avid runner, taught sailing on Lake Michigan, traveled extensively, was a certified SCUBA diver, read voraciously, loved recounting his favorite stories, and tackled countless home repair projects with varying results. During the summer, one of Hugh's favorite things to do was to drive his convertible while blasting Jimmy Buffet tunes, and visiting various outdoor local concerts, including Blues Brothers cover bands.
Hugh was proud of his service as an aviator in the US Navy - both active and in the reserves - and retired in 1992 with the rank of Commander. He began in flying boats and fondly recalled his tours in the cockpit of the Martin P5M Marlin seaplane. He spent his career as an airline pilot, beginning in the glory days of the propellor driven aircraft such as the DC-3 and his favorite aircraft to fly, the Convair 580. He finished in the jet age flying DC9s. He flew for several airlines including North Central, Republic Airlines, and Northwest Airlines. He retired from flying in 1992.
Survivors include his wife of 54 years, Joyce Brown Black, his daughter Gretchen Harple (Black) and her husband Todd Harple of Hillsboro, OR, his daughter Jennifer Black-Stalnaker and her husband Jeff Stalnaker of Leawood, KS, grandchildren Sean, Hailey, Griffin, Emma, and Henry, and his sister Doris Leppa (Black) of Old Town, Florida. The plan was to release an obituary once a celebration of life was organized but due to Covid, it continues to be delayed. Hugh's wishes were to be interred in a military cemetery or section of a cemetery for military personnel.
 
SERVICES
Burial
No Information
---
Visitation
No Information
---
Service

No Information
No Information