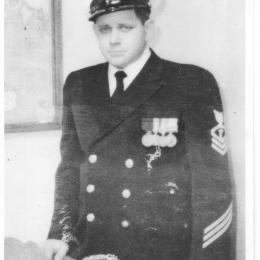 ABOUT
Name
James H. Bryson
Date of Birth
August 30, 1932
Date of Death
September 9, 2021
Home Town
Neptune, NJ.
Place of Passing
Manassas, Va
Branch of Service
Navy
Rank
Chief Petty Officer
Years of service
20
OBITUARY
James H. Bryson
Navy
August 30, 1932
-
September 9, 2021
James Henry Tait Bryson, Jr. passed away at the age of 89 on September 9, 2021. James was a retired U.S. Navy chief petty officer hospital corpsman who served with the Marines in the Korean and Vietnam wars. James attended Rutgers University, before leaving to enlist in the U.S. Navy in 1951. While stationed in Yokosuka Japan he met and married his wife of 50 years (Masako Uehara). He developed a rich appreciation for Japan's history and culture.  Following his retirement from the Navy James went on to become a registered nurse working for San Diego County, and received his Bachelor's and Master's degrees from National University in behavioral health and education.
He grew up in Neptune, New Jersey and was the son of the late James Henry Tait Bryson, Sr. and late Margaret (Certo) Bryson, and was preceded by his wife, Masako (Uehara) Bryson, who passed in 2004 and great grandchild Maia Hitome Langley.
James was a lover of books and nature. He especially enjoyed literature and writing.  As an admirer of fine writing instruments, Pop was always in search of the perfect pen. 
He is Survived by his four children, Henry Bryson, Margaret Bryson-Langley and husband Michael, Amelia Felmly, and Roger Bryson.
Eight Grandchildren, Stephanie Leigh Rose and husband Paolo, Bryanne Hogan and husband James, Asia Vicchrilli and husband Brett, Michael Felmly, Candice Bryson, William Bryson, Jessie Thibodeau and Nate Lemieux and eight Great Grandchildren, Baylor, Elliotte, Phoebe, Penelope, Milo, Evelyn, Luca and Sebastian.
Memorial Services will be held 1pm September 29th at Pierce Funeral Home, 9609 Center Street, Manassas Virginia 20110.
SERVICES
Burial
No Information
---
Visitation
No Information
---
Service

No Information
No Information